Best Companies To Work For
Fortune released it's annual list of the top 100 companies to work for in the U.S.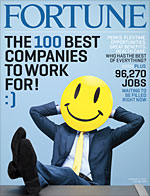 If you are thinking about making a move and not sure where to start, this list may point you in the right direction.  At least 14 companies on the list pay 100% of their employees health care premiums.  Other companies have perks that include home buying assistance, paid sabbaticals,and even wardrobe assistance.
Topping off the list at #1 is North Carolina based software developer SAS, who catapulted forward form #20 last year.
Google – which has long been known as a special place to work – hangs steady at #4.  I wonder how long that will last, with this week's announcement that founders Larry Page and Sergey Brinplan to divest their majority stake in the company over the next 5 years.  As the wall-street types take control of the company, will they keep intact the environment which foster creativity, innovation, and attracts amazing talent?  or, Will they look to make cuts the first time the stock price drops?
With investment adviser Edward Jones at #2, and Wegmans Food Markets at #3; rounding out the top 5 is a giant leap for Dreamworks Animation  jumping  from #47 to #5.  To find out what makes these companies so great to work at Check out the full list here.